It happens to the best of us. The place we once tucked our kids into bed every night, becomes their sanctuary from the world. Then one day they pack it up and head out. This college student was no different. And when he started rounding out his freshman year, I got a call from his mom wanting to do a college student bedroom renovation before he came home for the summer. Her goal was to take it from his younger school years to something a college intern would love to come home to.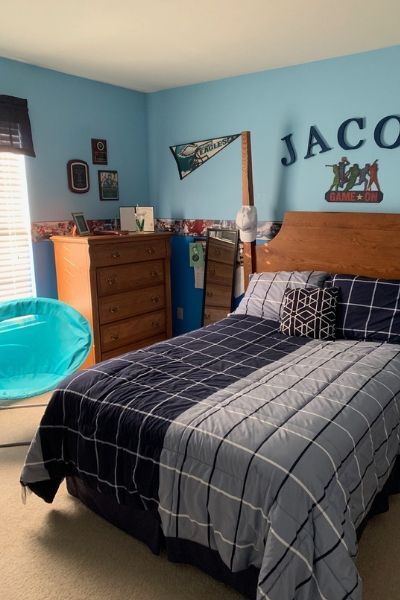 We kept the furniture. I came up with an updated version of the original color scheme and brought the accessories from school days eclectic to college student / business man. The one piece of furniture we didn't reuse was the bookshelf.
**this post may contain affiliate links, any commission earned we donate back into
the community through service projects, and random acts of kindness**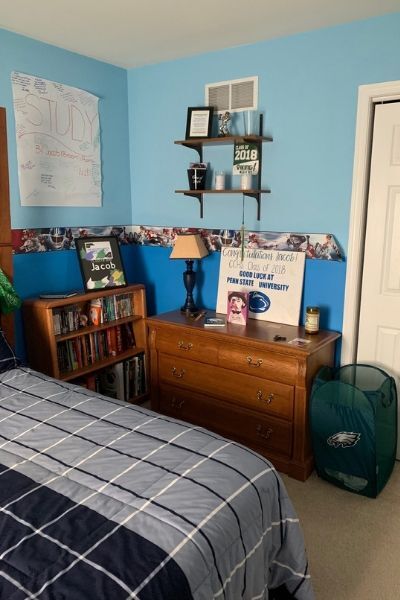 Once the football wallpaper boarder was removed, we added the new paint color palette to the space. Since this wasn't a full surprise this college freshman gave his stamp of approval prior to proceeding. The results of the paint alone were stunning. Adding a deep navy accent wall to this renovation made the bed stand out as a focal point in the space. I chose a warm gray for the rest of the walls that would work well with the existing warmth of the carpet and act as a serene backdrop to this college student's bedroom.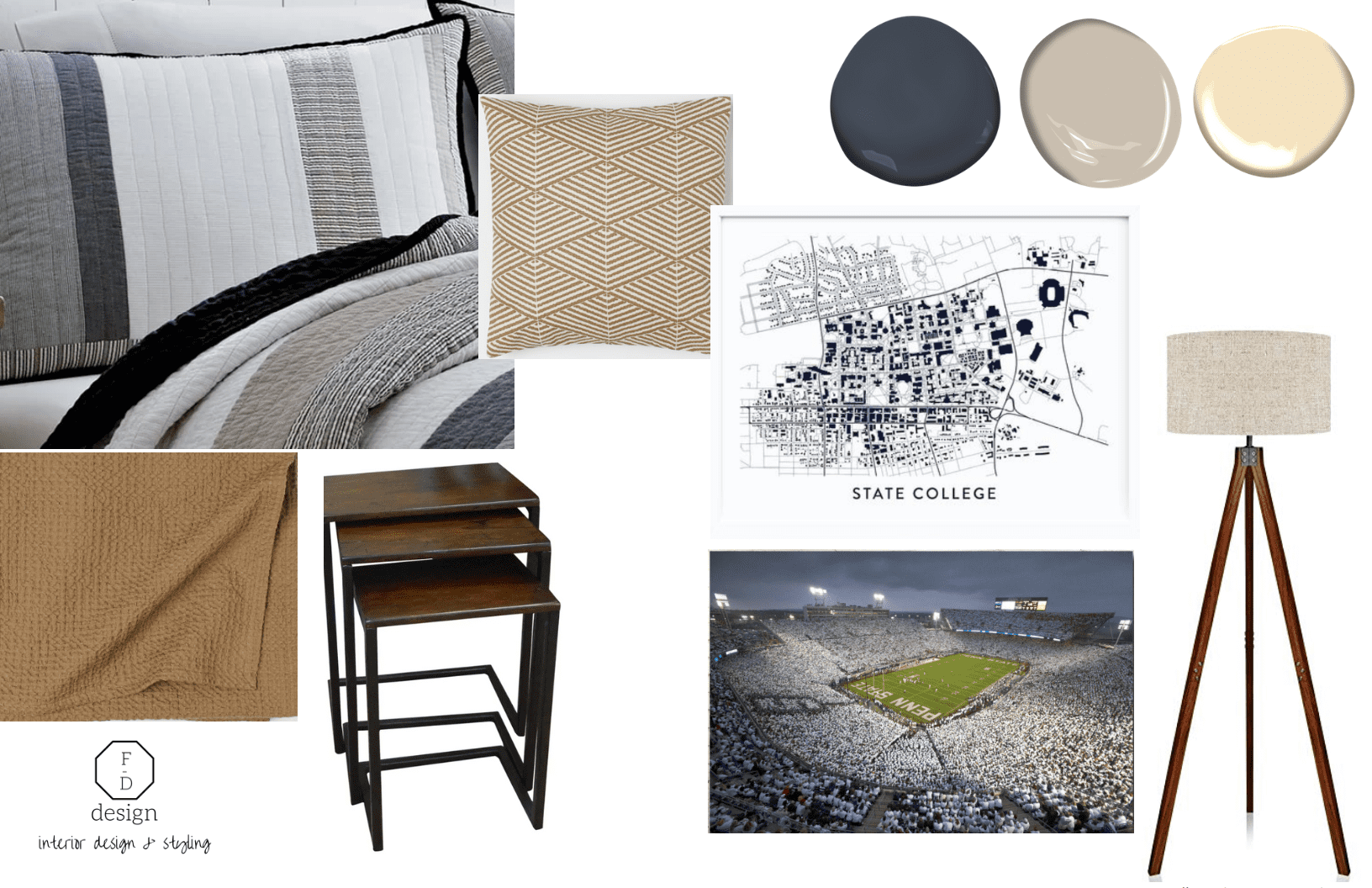 Each design starts with a mood board presentation to make sure I am on the same page as the client. Sometimes clients love the mood board so much it just turns into the final design. Other times we make a few adjustments before proceeding. These presentations allow for great conversation and making sure I am interpreting what the client has told me their vision is for the space. This design was no different, and we proceeded to turn this into the final design.
College Student Bedroom Renovation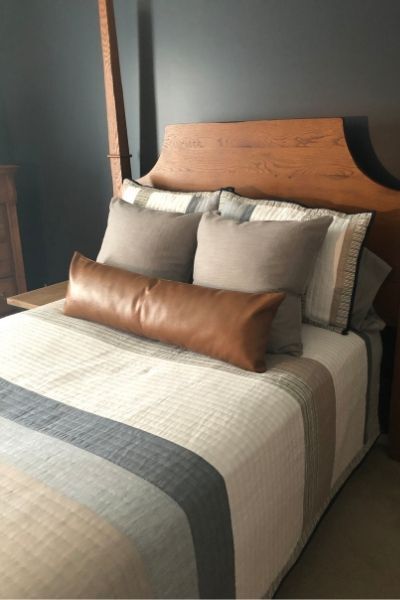 After two semesters of 4.0 GPA this college student deserved an updated place to rest when he arrived home for the summer. Between working and travel this college student bedroom renovation acts as a place to relax and enjoy his down time. By adding new bedding with some masculine accent pillows the bed instantly became an outstanding focal point in the space.
By adding a bench to the end of the bed, we created a place to sit to put shoes, as well as a place for guests to sit and hang out. A small table by the bed acts as a charging station and night table. Modern accessories were added along with artwork that complimented the color scheme. Simple panel curtains softened the window and helped to finish the room.

Looking for an updated space in your home? Let us help you pull it all together in a short amount of time. Did you know we do e-designs that allow you to put a room together yourself? Check out this awesome service. Local in the greater Lehigh Valley, PA? We are happy to do your install for you all in one day. Not quite ready to make the leap….that's okay, save this pin for later!
Join Our Design Trendy Family
]