This modern finished basement renovation will be home to a group of adult brothers when on retreat at their parent's home.
My client had a vision to brighten the space and update the colors. The low ceiling, dark paint colors and flooring weren't creating the space my client was hoping to provide for her adult children and house guests. The space once served teenage boys and their friends a place to play video games and hang out late into the night. This space remains a favorite place for the guys to gather while home on breaks and holidays. This client also has overnight guests use this space as well.
This finish basement was dark and outdated
It's not uncommon to see low ceiling heights in basements of larger homes. The duct work and electrical work is extensive. The ceiling is often times mounted under these items to avoid having several different ceiling heights. Besides the low ceiling, the wide stripe throughout the space made the ceiling seem even lower. Any time you add a horizontal stripe to a room you cut the room into sections. So instead of having one long space, this space had three smaller spaces that brought the feeling of the ceiling being low even lower.
Inspiration for creating a modern finished basement
I sat with my client to get a good understanding of how she wanted to use the space. We settled on a modern clean look with coastal colors and simple lines. This client also opted for one of our lighting design packages to bring some new light to the space. The outdated 2×2 fixtures no longer served them well since the legos and toys have long since been put away.
This design is full of crisp cool colors to hep brighten the space. I made it a little more modern by using a lot of straight lines and mixed metals throughout. I chose to do an accent wall at the far end of the space so it didn't seen too long and tunnel like. Since I wanted to keep it bright I stayed in the same tones but chose a different hue. I also added accent lighting along that wall to create dramatic effect over artwork.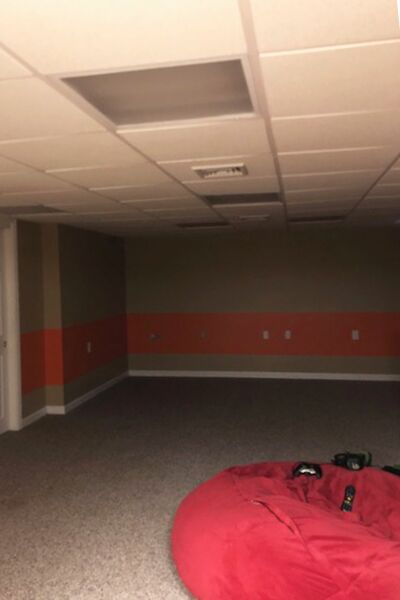 New finishes and construction
Besides packages for lighting, paint color palette and floor specifications, this client also chose my project management package. This package is designed to set my clients' minds at ease while I handle all the estimates, scheduling and coordination of contractors. This project required three different contractors to complete the space.

The lighting was designed to remove the existing 2'x2′ florescent lights and replace those with ultra thin recessed lights. We put all the lighting on dimmers so they can choose which mood they'd like to create while using the space. The far end of the room got three accent lights that were for drama as well as art lighting.
Flooring and Paint
The existing carpet was removed from the space and replaced with a luxury vinyl tile. This was a plank vinyl tile that looks like wood. It's great for a basement because you have the look of wood with the durability of vinyl. And yes, it can even handle a little moisture if it happened – way better than carpet or wood flooring could. The entire flooring project took 2 full days and included removing the old and laying the new floor and adding quarter round to the base trim.
My painting crew came in and had everything painted in a few days. From walls to trim to accent wall. Good bye orange stripe! This crew never ceases to amaze me with their quick quality work. The paint color palette we chose looks amazing with the gray tones in the flooring. It opened the space right up which was our number one goal.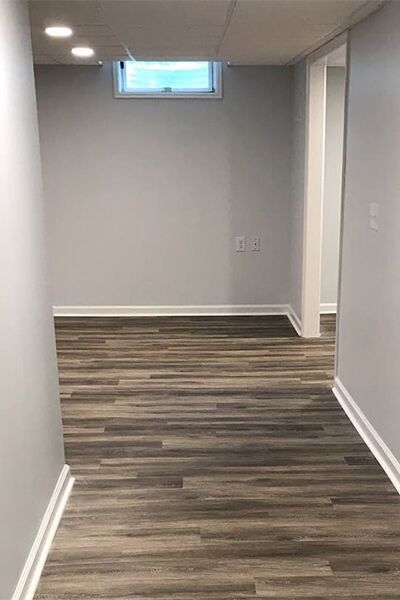 "Jaime was so easy and wonderful to work with. I had never used a designer before, but I had a dark ugly basement. Jaime came up with a deign to lighten it up. I had her pick out the paint color, lighting and flooring. She did all the work, made all the calls, and was so great with follow up! Jaime turned my basement into a relaxing and inviting space." -P.D.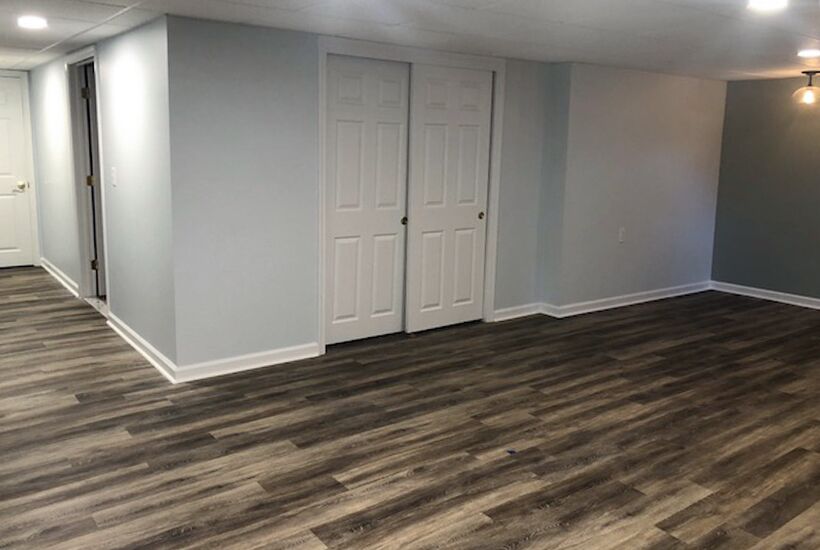 The project took a little longer to get scheduled than anticipated because of the workload most of my contractors have currently. But this space was worth waiting for. My client said she is thinking of keeping the space for herself and I am totally on board with that! She is such a super sweet lady and was an absolute joy to work with. I actually miss her now that the project is finished.
I make a donation to a local organization from each project I do because I believe we are all here to help each other. A donation is being made to Pediatric Cancer Foundation of the Lehigh Valley in my client's name. This client lost her daughter to cancer in her early 20's and she does so much to keep her memory alive I thought this would be the perfect fit for this project.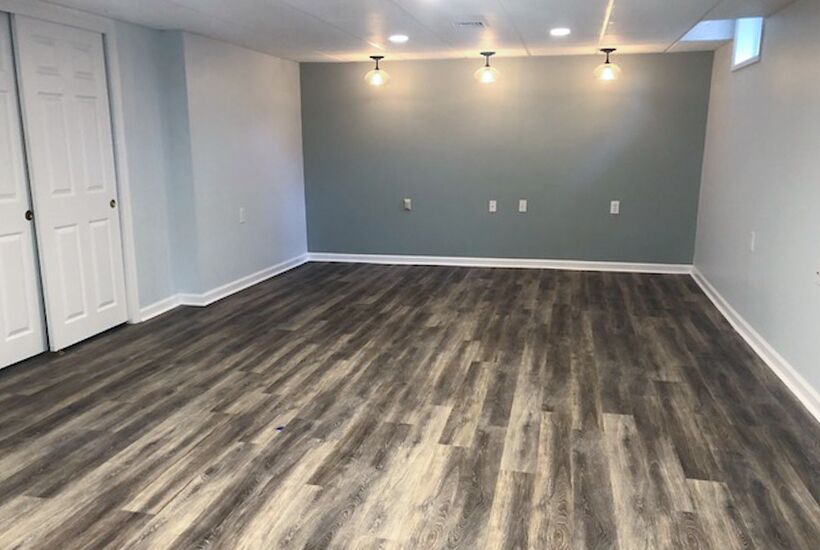 SAVE THIS PIN FOR LATER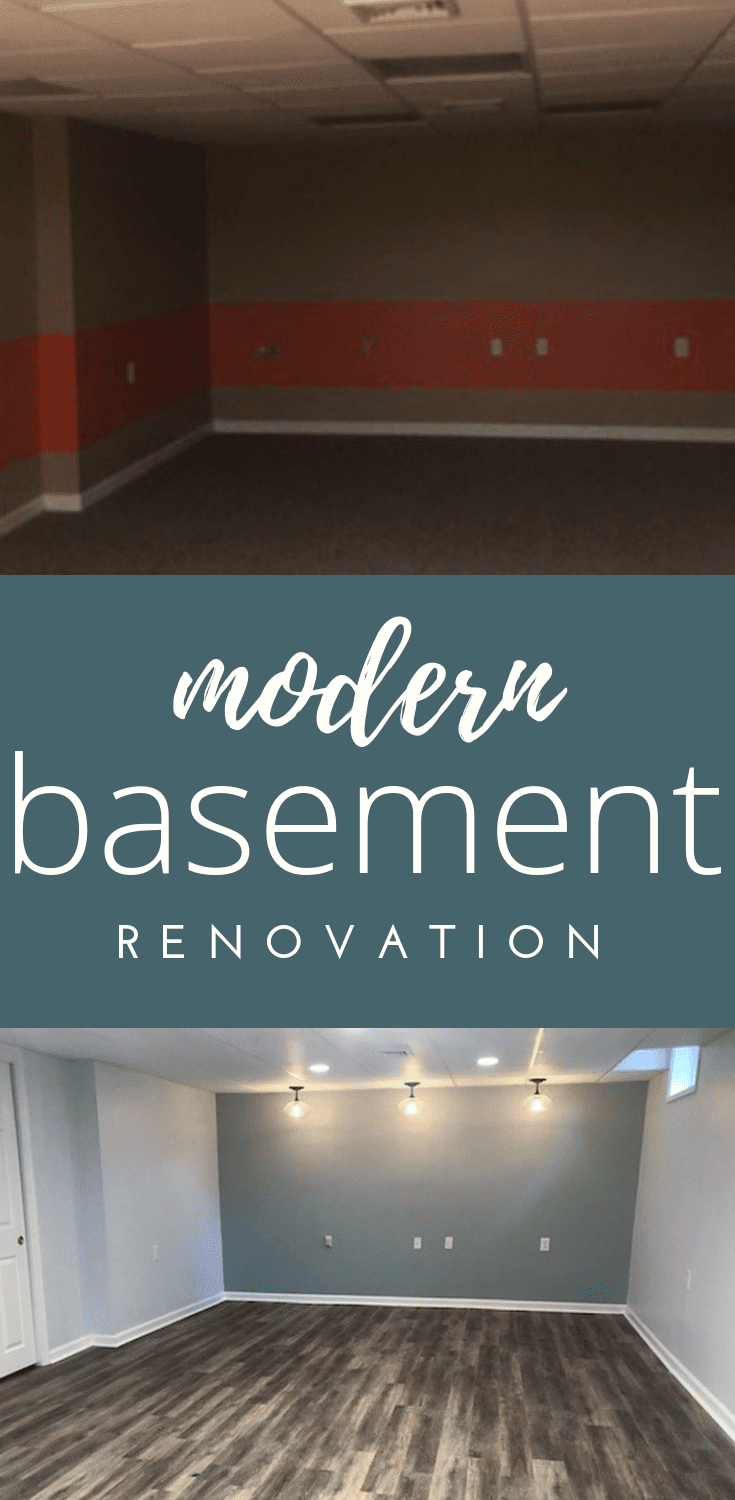 Are you looking to renovate your own basement? Not sure where to start? We can chat! Just click the link below to set up a time to talk about your project – I offer a free 15 minute phone consultation.

Join Our Design Trendy Family
Have you already done a basement renovation project you'd like to share with us? What was your biggest challenge? Would you do anything differently? Was it a DIY project? If you love DIY be sure to stop by our DIY blog for some DIY inspiration! Please comment below, I'd love to hear from you!